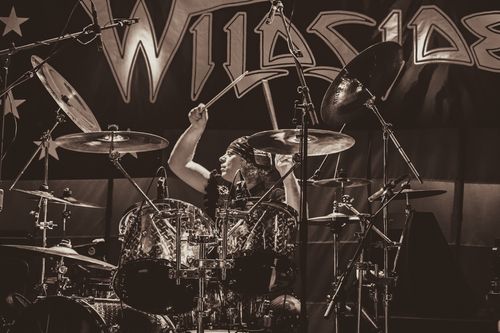 Jéan "Boomer" Grenier - Drums & Backing Vocals
Jéan has toured nationally and internationally with various bands/artists playing clinics to festivals. He has been the direct support act for rock legends such as: Judas Priest, Scorpions, Vince Neil, Peter Frampton and Jethro Tull to name only a few. Still a current member of the band BOTTOMS UP for nineteen years, Jéan was the drummer for BELIEVER (The Ultimate Ozzy Tribute) for five years and the number one national touring JOURNEY Tribute Experience  SCARAB for just under ten years. He holds many endorsements with companies such as Sabian Cymbals, Medicine Man Custom Drums, Kelly-SHU, Hot Sticks Drum Sticks, Attack Drumheads, Rock N Roll GangStar Apparel, & more. Boomer is known as a hard hitter with flair, versatility, and excitement in his playing and style.  
To see more of Boomer go to:  www.jboomergrenier.com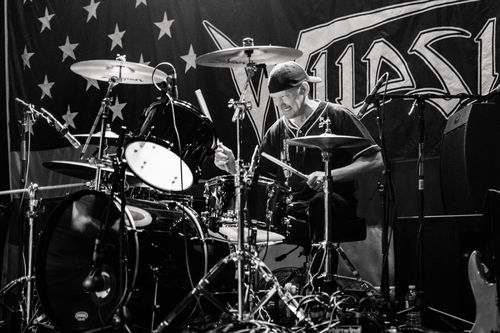 Everett Austin - Drums & Backing Vocals
Everett brings the timing and precision to Wildside's rocking repertoire, and with over 40 years drumming experience, fans are guaranteed a high energy show.  Everett's main influences are Neil Peart, John Bonham, Bill Bruford and Phil Ehart as well as jazz greats Billy Cobham and Buddy Rich.  His current favorite drummers are Gavin Harrison, Mike Portnoy and Nick D'Virgilio.  Everett has been endorsed by Tama Drums, Zildjian Cymbals, Evans Drumheads, Pro-Mark Sticks and DW.  Everett's past accomplishments include National Recording Artists Purge d.i., 80's original rock band Blackout and studio work for a multitude of artists.  If he is not rocking out with his brothers in Wildside, he is writing and recording with his original projects Nine Unknown and Bleed Through The Grey.